FACE OFF - OFFICIAL EXPANSION FOR BANG!

BANG! Face Off is a boardgame for two players set in the world of the western card game BANG! winner of the Lucca Best of Show 2002 award as best Italian game, two Origin Awards and other important awards. This game finally concretize a long-pursued wish of the creator of BANG!: put a BANG! duel on a board to make it more exciting for the players.

CONTENTS

1 PDF file - two separate maps (Canyon of Death and OK Corral Shootout), 16 nugget tokens, 3 pawns (Sheriff, Renegade and Outlaw).

THE GAME

Exclusive product for Arima by daVinci Games
For playing Face Off you will need basic BANG! pack.

More on forum here.

 
BANG! Face Off features three characters: a Sheriff, an Outlaw and a Renegade; the latter will be moved by both the players and, as in the original game, will be an unclear character that will not openly take a side.

Eriadan, renowned illustrator, blogger and comic books author has illustrated all the game material. You can find his comics strips on www.eriadan.it.

Players of BANG! will easily learn the rules as they are brilliant but easy, since the complexity of the game lies in the cards. The cards, at the end of the game, become even a way to organize a small auction aimed to bribe the Renegade.
The rules explain also how to use BANG! Face Off with official expansions produced by daVinci Games: DODGE CITY and HIGH NOON (waiting for HIGH NOON II)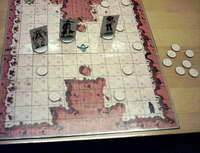 Included in this PDF you will find two maps but soon, Arima will offer you more bonus maps! You can even compose the maps by yourself, as they are geomorphic and square-based.

Enough chatting! Find a friend to challenge, put characters and nuggets on the board, shuffle the deck and you will be allowed to pronounce the fatal words: "this town is too small for both of us!".
You will need a BANG! deck and, if you wish a DODGE CITY and a HIGH NOON deck.